It's quiet out there on social media. I'm in San Diego with my wife's family for the holidays, as per usual. And, as per usual, my email's a little slower than normal, my Twitter feed a little more empty, my Google+ feed likewise. It's nice.
But then, I find myself with 30 minutes on my in-laws' couch, waiting for someone to get ready to go somewhere, and so I scroll through things on my phone or laptop and think "I wish there was something good to read right now." So, what the heck, maybe I'm not the only one. Maybe you, like me, could use a brief distraction, and something to make you feel productive, sharp, or at least like you've got something interesting to share around the table if the conversation takes an awkward or inappropriate turn.
Thus, I'm putting together a few lists of things I consumed and/or produced this year that you will, fingers crossed, find valuable.
Critical caveat: this is my personal opinion and nothing more. It's also not a wholly comprehensive or wholly accurate list, and there's almost certainly items from each list that I've left off which are better than those I remembered. Such is the tragedy of having a poor memory — hopefully you can forgive 🙂
5 of the Best Non-Marketing/Tech Things I Read This Year
5 of the Best Marketing/Tech Things I Read This Year
5 of the Best Photos/Visuals I Saw This Year
1. Giant Octopus Invades Submarine (via Dean West)
2.  The Hierarchy of Disagreement from CreateDebate (created in 2008, but I only saw it this year somehow!)
3. How Carousel Navigation Should Be from Anthony at UX Movement
4. Sunda Flying Lemur from Hendy Mp on 500px
5. The Mobius Arch in California at Night via Imgur
5 of the Best Photos/Visuals I Took/Made This Year
1. Google's Algorithmic Journey via this blog post
2. Criteria for Modern Content Marketing Investments via this presentation: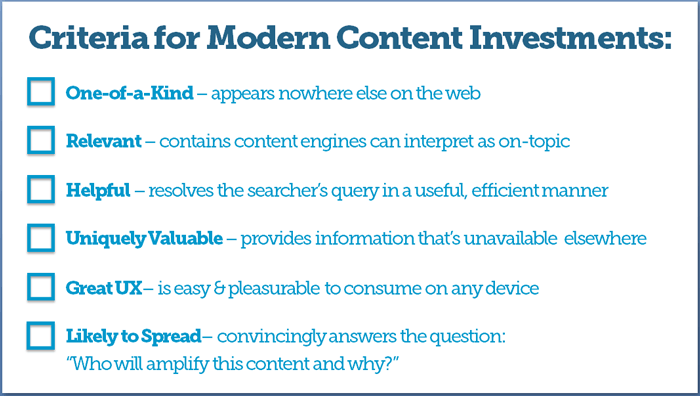 3. Ashland, OR just after a thunderstorm in July (click for larger version):
4. The SEO "Slog" from this Whiteboard Friday:
5. Caveman Rand via this presentation:
5 of the Best Pieces of Content I Created This Year
5 of the Best Webs Tools I Started Using This Year
5 of the Best Books I Read This Year
NOTE: I stopped reading business books in 2014, mostly because I found that I received almost no additional value from reading them vs. reading online summaries of them. I'm sure there are some business-related books I should still read (The Hard Thing About Hard Things, for example, has been mentioned by dozens of colleagues), but I intensely dislike entire business books, so I've put them on hold, at least for a while.
The 5 Best Places I Went This Year (that I'd never been to before)
Tropical North Queensland (specifically Port Douglas & environs), Australia
Cape Point and the Cape of Good Hope, South Africa
The Amalfi Coast, Italy
The Anza-Borrego Desert, CA
Ava Gene's in Portland, OR tied with Nye's Polonaise Room in Minneapolis, MN (sadly, the latter is to close next year)
If you have some best things to add and share, please don't hesitate to put them in the comments. I'd love a few more distractions for the days ahead.