In 2018, my cofounder, Casey, and I had a crazy idea: what if you could aggregate the behavior of tens of millions of public social profiles and get insights into how groups of people behave online? What if you could build a company doing just that? Would people pay for it? Would they find it useful? Fast forward 2.5 years, and the answer to all of those is a resounding yes. It's exhilarating for myself and Casey to have come so far, but there's an embarrassing asterisk… One I'm reminded of regularly when I explain SparkToro's product. Somehow, I've never written publicly about how to put this remarkable data to use. Time to get to work!
The list below is in no way exhaustive, but from the hundreds of conversations and email exchanges I've had with early adopters, these represent the most common and most impactful ways folks are putting audience intelligence data to work. In each of the subsections, I'll show which elements of SparkToro's product are being applied, where to find them in the product, and what to do once you've assembled them.
Applications for SparkToro's Data:
Digital PR and Outreach Data Uses
SparkToro's central mission is to help marketers better understand how and where to reach their audiences outside of just Google and Facebook's duopoly ecosystems. So it's no surprise that digital PR is the most common and simplest application for the data. Digital PR seeks to find platforms, publications, and sources of influence of all kinds and earn amplification on/from them. SparkToro's data and UI makes that easy.
Step 1: ID your audience(s)
There are five ways to search SparkToro's index of profiles: topics they talk about, words they use in their profile/bio, hashtags they use, social accounts they follow, or websites they share/visit. Each of these are useful in different scenarios to find the audience you're after (this my favorite process).
Step 2: Discover the social accounts, websites, podcasts, and YouTube channels that reach them
Once you've got a few (or few dozen) searches that retrieve the right audiences, dig into the four types of results SparkToro provides: Social Accounts, Websites, Podcasts, and YouTube Channels. In almost every scenario, you'll find a mix of publications from the very niche to the popular and well-known. Using the filters (especially in the Websites and Social tabs) can then help you drill into exactly the kinds of targets your campaign's after.
Step 3: Build a list of outreach/digital PR targets
The "Lists" feature lets you easily select the sources you want, create custom lists, and manage your campaign in whatever structure makes sense (or export it to the tool of your choice via CSV). If you're using a Standard or higher-tier plan, contact data is automatically part of Lists for any source you add, including email addresses when available.
Step 4: Start the conversation
The data you'll find in SparkToro can guide you to the sources of influence that reach your audience(s), but it won't do the hard work of making a real connection or sending a compelling pitch. That's up to you (or your PR/outreach/marketing firm). That said, I've got two strong suggestions anytime you're reaching out:
Start with a social conversation, not an email. Use the social contact data in SparkToro to start following and engaging with your source on the platforms they use. An email that begins with "Hi Rand, enjoyed our chat on LinkedIn about product-market fit the other day, and wanted to reach out about a piece we're publishing," has a high likelihood of being opened, read, and replied-to.
Or, get an email introduction from a mutual contact. Email intros are great ways to get a conversation started, and vastly (literally 10-100X) more likely to result in a reply than a cold email.
Loads more outreach tips are here, but no matter your process, data that shows not just potential PR sources, but the percent of your audience they reach, is invaluable. Honestly, I don't know how we managed without those numbers. Wild guesses about the effectiveness of coverage doesn't hold a candle to real, provable, transparent data.
Content Strategy and Creation Data Uses
What should you write about? Make videos about? Post to social about? Creative visuals about? Who should that content try to reach and how?
SparkToro doesn't have all the answers, but the data on sources that earn your audience's engagement, following, sharing, as well as which topics and hashtags are resonating is a powerful, never-before-available nudge in the right direction. That's why content marketers and agencies make up such a large portion of our early customers (25%+).
Amsive Digital's Bambi Frazier covered a big part of this use case when she wrote about their agency's favorite tools:
"SparkToro is my current favorite for a variety of reasons—primarily because it can be used for so many applications.  It's all about helping you better understand your target audience by offering a zoomed in view of their online activities.  No… not THOSE activities!  But rather, "what your audience reads, watches, listens to and follows" collectively. "
Let's explore exactly how content marketers are putting this data to work.
Step 1: Uncover What Your Audience Talks About
While many keyword research tools will tell you what people are typing into Google, SparkToro approaches content a different way. Our data covers social networks like Instagram, Twitter, LinkedIn, Facebook, Pinterest, and more, illuminating what an audience talks about. With this information in hand, you can discern interests, conversations, and topics that often remain invisible through pure search-keyword-based research.
Step 2: Learn Which Sources They Follow, Read, Watch, & Listen-To
Discussion topic data isn't the only helpful piece of SparkToro's results. The sources of influence for an audience are another powerful way to find content opportunities.
By following and engaging with the sources of influence that reach your target audience, you can find the content pieces from those publishers that are earning engagement, and pick up the language, styles, authors, subjects, positioning, foci, and more. Several content strategists I've emailed with tell me this is their primary application: they want to understand the field before they rush into advising a client or crafting their strategy.
Step 3: Find the Unexecuted-Upon Gaps Where Interest is High, But Competition is Low
Once you know the topics of interest, and the publications and people that cover them, you can build a content plan that executes. Much of my own writing and video filming is inspired in precisely this way (though until SparkToro's launch, I never had the data to back up my instincts).
Topics that earn discussion often earn engagement, and those that earn engagement often earn traffic, subscribers, and search rankings. And that, my friends, is the formula for content marketing success. Go where the competition is light, the interest high, and your contributions uniquely valuable.
Audience Research / Persona Crafting Data Uses
Several SparkToro customers are finding the data to be exceptionally useful in the task of crafting personas: fictional representations of customer groups they seek to target. Historically, this has been done with mostly surveys + interviews (or worse, speculative guesswork). But applying true, behavioral data to the process can make a massive difference.
Two years ago, Nielsen Norman Group published a thoughtful critique of personas, noting many of the problems with the traditional practice.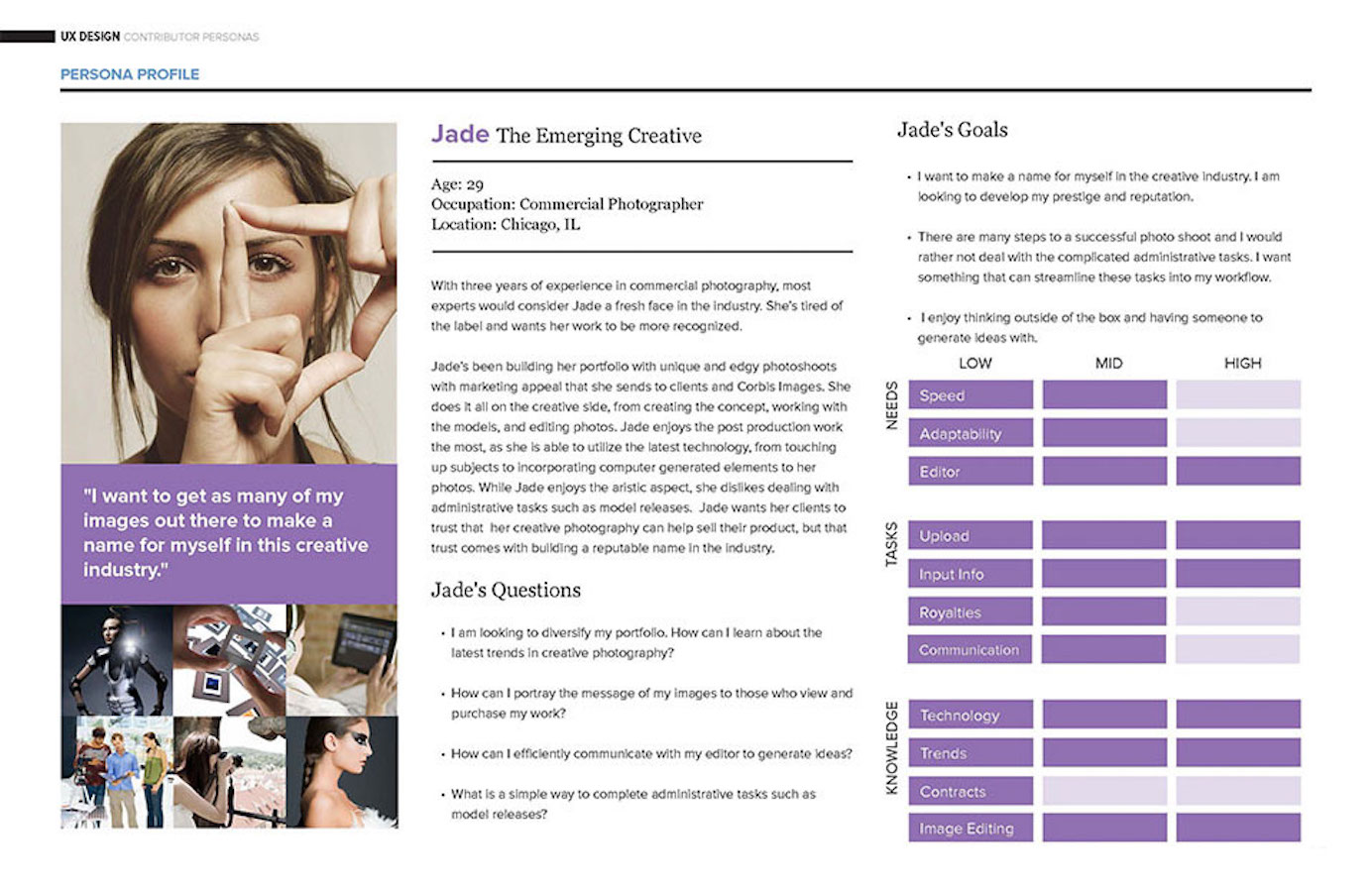 Problems included a lack of buy-in, of use, and in application. But perhaps more severe was the disconnect between the goal of a persona (i.e. to take action based on the data in them) vs. the lack of actionable data. This is where SparkToro's numbers are ludicrously valuable.
5,206 profiles used the hashtag: #DayTrading in the past ~3 months. SparkToro's got a lot of data about how they behave online:
Rather than wondering about whether a particular archetype engages in a behavior, SparkToro can show true, percentile numbers about exactly how many profiles that match a group do (or don't). It can show you what words and phrases they use, who and what they follow/engage-with, what hashtags they use, podcasts they listen-to, YouTube channels they subscribe-to, and more.
It can show you where people are located.
And what political sources they tend to follow and share. It can tell you websites they engage-with (mainstream and niche).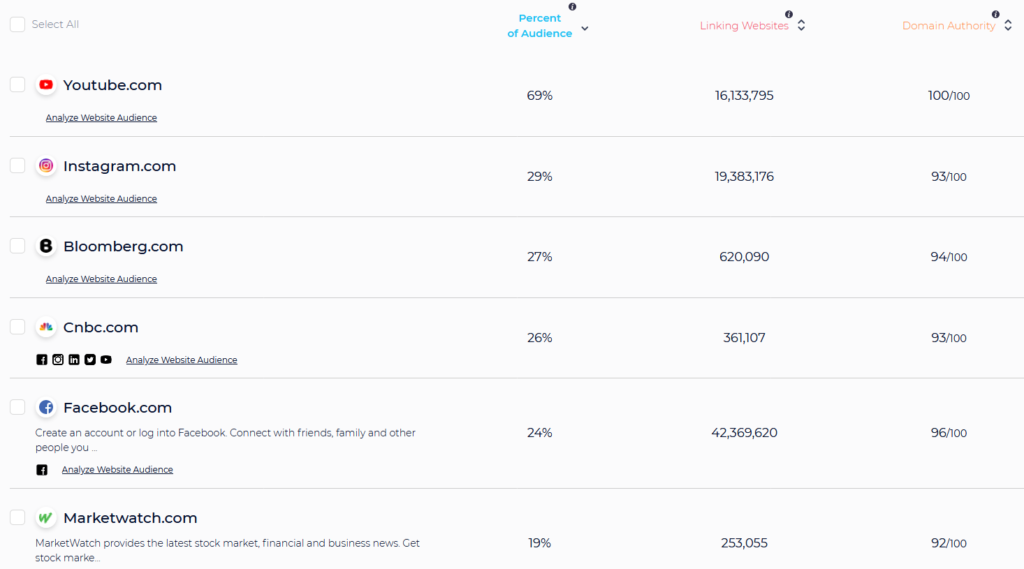 Adding this data to personas isn't just enrichment for the sake of it. SparkToro's audience intelligence can mean the difference between a persona that's truly useful and one that isn't. If you know how your audience behaves, where you can reach them, and what they talk-about/engage-with, you've got a much more logical use-case for personas.
Ad Targeting (Social & Display) Data Uses
Facebook and Google have created a frustrating duopoly around online advertising thanks to their market dominance in social and search (respectively). One of the biggest frustrations for online advertisers is the cost of attracting customers via these platforms. Everyone is bidding for the same traffic, so breaking through the noise and generating high ROI means you need every advantage you can get.
For a lot of advertisers, that comes down to targeting. If you can more effectively target the right customers, with the right affinities, in the right places, you can beat your less-sophisticated competition's advertising campaigns and have more to invest in other channels, product, and profit. But this is easier said than done.
Over the last few years, Facebook and Google have both taken away a lot of the data and targeting options, leaving advertisers at the mercy of their infuriatingly-difficult-to-use, in-house ad targeting tools. Even the most talented online marketers readily admit that the increasing opacity of data on these platforms (from hiding keyword/interest targeting options to removing filtering options to limiting the autosuggest features) has been a massive hindrance to ad effectiveness.
Just look above, at Facebook's audience builder. Or below, at Twitter's. If you don't know the right words and phrases to type, the right interests to start searching, the right accounts & pages to enter, you're gonna have a bad, expensive, low-ROI time.
Google's Display and video ad targeting is no better. Just as the search giant has made KW data harder to access in search ads, so too they've made audience research in display world mind-numbingly painful to uncover.
What advertisers need is data about what their target audiences do in online platforms, and SparkToro, thankfully, fits like a glove. Searching based on what an audience discusses, how they describe themselves, sources they already follow, hashtags they use, etc. can rapidly reveal exactly the kinds of inputs you need to build more sophisticated, targeted, savvy ad campaigns.
Data about frequently used words and phrases, hashtags, words in bios/profiles can go directly into the interests field in tools like Facebook, Twitter, and Google.
And when you want to get that list of brands/pages/accounts your audience already follows, SparkToro's % of audience metric is as good as it gets.
I've received emails and notes from early customers telling us they've seen their Facebook and Google (and Twitter) ad accounts earn 2-5X the ROI just from selecting better audiences in the ad builders. Best of all, you don't need a pre-existing wealth of ad data or a ton of experimental dollars to make this work. Even the smallest advertiser or campaign can significantly boost ROI with this information.
Social Media Marketing Data Uses
Social media marketing isn't the top use-case for SparkToro right now… but I'd make the case it probably should be. That's not meant to disparage any of the other applications above, but rather to highlight how massively useful the product's information can be for many of the most crucial strategies and tactics in social media marketing, like:
Discovering the most influential sources in a social field so you can follow, engage-with, and understand them and their audiences
Finding the hidden gems of social influence in a field, and getting the jump on your competition before they become big deals
Identifying topics of interest, language a community uses, hashtags they employ, and arenas where they participate heavily so you can rapidly be part of the right crowds
Filter the social influencers by exactly the networks, numbers, and criteria you want to reach the right ones at the right time with the right messages
Get the contact information for social accounts to expedite your outreach efforts
And loads more.
One of the simplest ways to start down this path is by analyzing your own social account's followers, and your competition's. For example, I ran an analysis of one of my favorite boutique retailers in Portland, OR: Wildfang.
SparkToro knows about ~8,500 profiles that follow this account (across 1+ social platform), and they share a healthy number of characteristics: an interest in women's soccer, support for GLBTQ+ and BLM issues, an unsurprising geographic overlap with Portland… But it's when we see where they engage that the actionable, tactical steps become clear.
What/who should Wildfang's social accounts be talking about? Following? Amplifying? Building relationships with? Doing cross-promotion to? The answers become clear very quickly. Compare and contrast this against new audiences the brand might want to reach, or competitors they seeking to learn from, and the data truly shines.
Competitive Analysis Data Uses
There's a veritable plethora of tools offering web marketing-focused competitive intelligence and insight: Moz, Ahrefs, SimilarWeb, Buzzsumo, SEMRush, and loads more. But all of these existing platforms had a huge missing piece: audience-specific reach.
Sure, Moz or SEMRush could tell you that your competition's website ranked for more keywords than you. SimilarWeb can tell you who gets more traffic. Buzzsumo could tell you who had more social shares on their content pieces. But what I always wanted to know was who reached a greater percent of a specific, targeted audience.
For many marketers, SparkToro is finally solving that problem. Sure, your competition might have more links or traffic or followers than you do… But do they have greater traffic or more reach with the audiences you're trying to reach? Or is their coverage wide, while yours is precise? SparkToro can answer that nagging question.
One of the best ways to start is by analyzing your own social account and website against key competitors:
Comparison of Ann Handley's audience vs. Rand Fishkin's
But it's also quite compelling to look specifically at the overlap of two audiences via the "Compare" function:
Now I can visualize and see the stats around where we're capturing similar vs. distinct audiences, what the overlap looks like, how our respective audiences behave, and more.
Better still, competitive analyses that might have excluded indirect competitors can now be more holistic. SparkToro often surfaces a publication, media sources, social account, or YouTube channel that's making inroads with your audience but that otherwise wouldn't be on your competitive radar. After all, not every competitor is exclusively in Google's SERPs.
Keyword Research Data Uses
Quite possibly the most unexpected of applications for SparkToro's data has been in the keyword research world, where several clever marketing professionals have started using the tool's results to outsmart their competition with topics and keyword targets that would otherwise remain invisible. How are they doing it? Honestly, it's impressively creative:
Search SparkToro for a customer or audience target
Find the words and phrases that group talks about and the hashtags they use on the Audience Insights tab
Visit the Websites tab and download a list of relevant sites
Run both the websites and the topics list through an SEO keyword research tool like Moz's Keyword Explorer or Ahrefs
Uncover searched-for words and phrases that wouldn't otherwise be on your radar (and that your competition is unlikely to ever find if they don't employ this methodology)
Given that SparkToro doesn't have any data about what an audience searches for, this process is quite remarkable, and illustrates just how creative marketers are getting with multiple data sources across different toolsets. Of the four different kinds of keyword research, SparkToro's pretty handy for three of them (excluding pure search-focused keyword data).
I tried the process myself, and found the results, even from just a handful of queries, produced vastly more creative and expansive keyword opportunities with SparkToro included vs. just Keyword Explorer alone.
Left: results for a SparkToro analysis of profiles that use the word "economist."
Right: results of a KW Explorer search for "economics"
---
Undoubtedly, numerous other data applications exist and are already being-acted-upon by SparkToro's users (free and paid). And that's pretty darn exciting. Audience intelligence data has vast applications, but it has to be high-quality, trustworthy, accessible, and consistent. Our goal is to keep improving SparkToro in all these ways, but know the paths folks are following with our information helps make those assessments possible.
In the weeks ahead, we'll be launching a new case studies section highlighting a number of these in more depth, but for now, if you've applied the data in a unique way or have questions about any of these, we'd love to hear from you in the comments.