Friends, I've got great news. If demographics data is valuable to your market research, targeting, persona-building, or marketing tasks, SparkToro just became your best friend. Much of the information you might have relied on in Facebook's old Insights tool (before the Cambridge Analytica scandal) or Twitter's Analytics (before they inexplicably pulled it) is now accessible in SparkToro in a fully privacy compliant, simple-as-pie interface.
Demographics is, however, a subscription-limited feature. At the Standard and Premium tiers, subscribers have full access. For Basic/Starter and Free accountholders, access is more limited. This is both because A) Demographics is relatively costly data for us to acquire and B) Demographics isn't a featureset everyone will need.
If you're interested in learning more about the new features of Demographics, you can skip straight to any of those elements (or read on for more detail about the other changes coming to SparkToro's pricing packages):
Changes to SparkToro's Subscription Tiers
As part of this new feature's launch, we're also changing how SparkToro's pricing tiers work to give every subscriber more searches, and separate the tiers based on data features. This comes directly from observing how folks are using SparkToro. I.E. More searches are often needed to iteratively find that right audience, but not everyone needs all the types of audience intelligence SparkToro provides.
Until end of day Tuesday, June 22nd, our pricing tiers will include the "Starter" package:
But, at the end of the day June 22nd, we'll be retiring the Starter ($50/month) tier in favor of the new "Basic" tier (below). If you already have a Starter subscription, you can maintain that legacy tier for as long as you keep your membership.
The new subscription tiers will look like this:
There's a number of changes, but the big ones are:
Free accounts are going back to our initially-promised limit of 5 searches/month
Starter subscriptions are getting more searches (50, up from the the previous 30/month)
Starter subscriptions will continue to get "top 50 results" access to Podcasts & YouTube data, but the new Basic account will include more limited results on these tabs
Standard subscriptions are being upgraded from 100 to 300 searches/month
Premium (aka Agency) subscriptions are being upgraded from 500 to Unlimited searches/month (unlimited manual searches only, programmatic queries still need to go through our API), and from a maximum of 25 to 50 users per account
All these changes are live as you read this post with the exception of the Starter → Basic switch, which happens tomorrow. And, of course, all the tiers will have some access to the new Demographics features, though the majority of this data is reserved for Standard and Agency subscriptions. More on what's included below.
---
For many of our market research, brand advertising, and persona building subscribers, demographics is a no-brainer. It might even be reasonably called the biggest "missing piece" in SparkToro's toolset until now. Yes, behavioral and attribute data about audiences is useful at the tactical level, but for numerous marketing and research functions, demographic data is table stakes. It's an expected default. And at long last, it's in SparkToro.
The one intentionally missing piece is any racial, ethnic, or religious data on audiences. That's because we continue to honor the commitment we made in our statement on racial injustice last year. There are absolutely, good, noble use-cases for that information, but in our opinions, the potential for abuse outweighs the value or revenue it might bring.
Additionally, because SparkToro collects and aggregates data, we have to be judicious about protecting personal information. Just because we don't show names or other obviously identifiable information doesn't mean someone couldn't use the data in demographics to reverse-engineer an identity (granted, this is all publicly crawlable social profile data, but still, we like to be extra protective). To stay on that super-extra-cautious side, Demographics is only available when we have more than 150 profiles with these data elements (Education, Skills & Interests, Gender & Age, etc).
Here's more detail on each of the types of information in our new Demographic tab, how we source this data, why you can trust it, and some potential applications.
Employment
Employment data in SparkToro comes from a variety of social profiles in our index, though LinkedIn is often the richest of these. It's the first section you'll see in Demographics, but make sure to scroll down!
Employment data includes these four elements, and you can click on either of the top two (job roles/fields and employer industries) to get the full list.
For persona building or audience research, the raw data itself has obvious value. Most of these research projects require employment information to be included, and we're excited that SparkToro can save a lot of researchers a metric ton of manual or survey-based research time. But the applications extend to tactical and strategic marketing, too:
Target industries/fields/employers that you otherwise might have skipped

e.g. maybe your marketing plan failed to include the professional coaching industry, and a few SparkToro demographic reports illuminate significant opportunity

Remove those that might not be relevant or include very few of your target audiences
ID industries that deserve more detailed investigation into events, influential publications, etc that might yield marketing or advertising opportunities

e.g. maybe there's a great event in the IT services field targeting managers that's been overlooked because IT wasn't on your radar

Create more data-backed social ads (especially on LinkedIn and Facebook) to back into the audience you're after with traits your competition won't have

e.g. using staffing as an employment category in Facebook ads could help you narrow an advertising audience or open up a new expansion opportunity

Craft content (top or bottom of funnel) that specifically speaks to these fields, company sizes, roles, and responsibilities
Undoubtedly, you and your teams will find even more creative ways to apply this information to your work (and when you do, we'd love to hear from you and share!).
Skills and Interests
Data in skills and interests is broad, diverse, and collected from a variety of sources (all public profiles, of course, and aggregated to prevent any PII). Words and phrases used, accounts followed, communities joined, etc. can all contribute to this aggregation.
Once again, the applications are broad—positioning, market research, personas, content creation, social media topics, ad targeting—all can potentially benefit from this data.
Building a list of market affinities for co-marketing or partnership plans? Skills & interests perfectly aligns.
Looking for content ideas further afield from the usual search marketing keywords? The skills & interests high on your audience's lists are likely to be superb matches (especially if you can find a compelling overlap between them and what you do/offer).
Targeting programmatic ads? High overlaps with skills/interests could lead you toward a particularly unique way to reach a purchase-likely customer set.
Brand marketing? Partnerships with organizations or individuals in these sectors can help you reach the folks you want.
And, of course, if you're working from personas, skills and interests can help make those templates far more data-informed and accurate. You can even compare your own audience against the competition (one of the first things I recommend in the Demographics dataset as a whole).
Gender and Age
Possibly the most simple, straightforward data in Demographics, gender and age can help illustrate how foolhardy it is to narrowly presume that your marketing should exclusively center on 25-year old men or 40-year old women. Audiences are diverse. Your copy, ad targeting, featured customers, case studies, photography, art, etc. should probably be, too.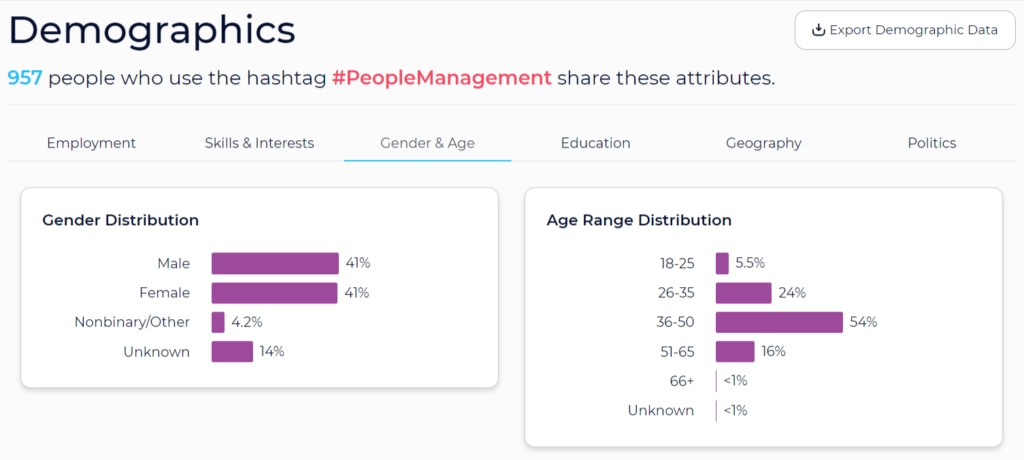 If you need help making that case, SparkToro's got your back. I'm particularly excited that (following the example of some very smart, inclusive data science folks) our gender distribution includes nonbinary and other genders as a category.
Education
Much like employment, our new demographics data gets a significant amount of information from public web profiles about education. For B2B marketers and researchers in particular, this can be an invaluable asset.
We break down educational information into four segments as shown below:
Majors and schools are self-explanatory, but the top two can seem high-overlap. The simple story there is that on some social platforms (LinkedIn and Facebook, for example), profiles note their degree. On others, the presence of unlabeled text in bios/about fields can indicate a more generalized type of degree. Long story short, SparkToro's system aggregates these into the two columns you see: more specific education type (when available) and less specific type of degree (when not).
Want to apply this data? Consider:
Social & programmatic ad targeting to degree holders of a particular kind
Sponsorships or co-marketing with particular schools or degree programs (especially if your market includes recent grads, as many recruiters do)
Building personas that include more detailed educational data
Writing for audiences, cognizant of their educational backgrounds
Geography
The geography section, which has historically been in SparkToro's "Audience Insights" tab can now be found in Demographics. Geography is available to all paid plans (including the retiring Starter and the new Basic tiers), just as it has been in the past.
Two notes about geography (that I feel like I can't say often enough):
SparkToro is still primarily indexing English-language profiles in the US, UK, Canada, Australia, New Zealand, Ireland, and South Africa. Outside those regions, our data tends to be quite sparse, though we're planning to experiment with adding German and Spanish profiles (from multiple countries where those languages are spoken) this coming winter.
Only ~20-30% of profiles publicly indicate their geography, and we currently do not attempt to guess where an account is unless it's declared in the location or about fields. Thus, when running a search in a given geo, anticipate that SparkToro will only have geographic data for ~¼ of the profiles in our index.
Politics
Last, but no least in Demographics are our political insights. I delved deep on our process for extracting this data in our politics launch post last year, and to date we've found the information impressively accurate.
While "Sharing Activity" and "Social Following" look similar, they represent different facets of online behavior: namely sharing indicates what folks post about, while following (as the name suggest) shows the accounts they follow.
Just be aware that public social accounts on Twitter, LinkedIn, and Instagram have been shown to be significantly more left-leaning than the American public at large. This difference likely extends to other Western countries, too.
---
You can probably tell that we're excited about releasing this shiny, new feature set. Data that helps marketers and audience researchers is our jam, and this new bevvy of information is particularly rich. We can't wait to hear how you/your teams are applying Demographics to your work.
As always, if you've got any questions or feedback, drop 'em in the comments or shoot me an email: rand at sparktoro.com.