Tl;DR: SparkToro's early customers include a mix of agencies, independent consultants, and in-house marketers whose work involves Digital PR, Social Media+Content Marketing, Market Research, Digital Advertising, Audience Building, and/or Creative/Brand Marketing. Clicking those will take you to the accompanying section of this post with use-cases and examples.
---
This has been a hard year for everyone. The pandemic's separated us from people we love, further amplified severe political and cultural failings, and made so many aspects of daily life more difficult. All of that makes it weird to write a blog post celebrating SparkToro. And yet, perhaps it's OK to savor those few bright spots in our lives. For me, Casey, our families, contractors, investors, and first few hundred customers (to whom I'm immensely grateful), that's what SparkToro's been: a bright spot.
When we started this adventure, the process of crawling and combining data from public social network profiles and website "About" pages was so uncertain we weren't even sure the thing would work. Today, only 5 months after launch, we're a stone's throw away from profitability. Given the economic turmoil of 2020, the loss of so many marketing jobs & budgets, and a product launch during possibly the worst time for such a thing in the last 80 years, that's not a milestone we take lightly.

Free and paid signups via SparkToro's Google Analytics (June – September)
Last week, I emailed several thousand folks who've signed up for a free account to share the test run of a new price point. Many wrote back, and the most common question (apart from "when are you launching in my country/language?") was some variant on "how should we be using SparkToro?"
Here's a quick sampling:
I often tell Casey I'm terrible at self-promotion and hate to blow my/our own horn, but it's obvious from emails like these (and many more) that's not the way to do things (plus he's getting a little hot under the collar about my lack of horn-blowing)… So, let's dive in.
What Problems Are SparkToro's Early Customers Solving with the Product?
Using SparkToro for Digital PR
Digital PR (Public Relations) is the most obvious, and one of the most popular use-cases for SparkToro. The logic's simple and straightforward:
Your target audience pays attention to certain sources of influence—publications, websites, social accounts, podcasts, YouTube channels, etc.
By reaching those people in the places they already pay attention, you can directly earn brand awareness, traffic, links, and conversions.
You'll also, indirectly, earn signals that help you rank higher in Google, brand affinity that helps improve conversion rate, and relationships that can yield future, serendipitous impact.
The only challenge is finding those sources of influence, and knowing how and whether they truly reach your audience…
Enter SparkToro:
This discovery process used to be painful. You'd have to get your audience's addresses, break into their houses, steal their phones, get their logins, and then browse through their activity to uncover what and whom they engage-with online.
KIDDING!
But, sadly, surveys and interviews can't uncover this data at scale with the precision and coverage a marketer needs to do effective PR. That process has, for a long time, been missing one critical metric:
Percent. Of. Audience.
When your client or your boss says, "I want you to get us on CNBC because that's where option traders engage!" you can reply with a data-driven, backed-up-by-cold-hard-facts screenshot.
Percent of Audience is as simple as metrics come. There's no machine learning, no AI, no patented process. It's grade-school division. But, it's also what matters most. To be effective, PR needs to tackle the right audience in the right places with the right messages. That middle one has always been a game of guesswork, demographics, surveys, and other middling methodologies. But thanks to the rise in public social activity, we know for a fact that of the 16,857 people whose posts, shares, replies, tweets, comments, etc. containing the words "stock option trading," 31% followed or engaged with Stocktwits.
Building a target outreach list for PR is a use-case served by many PR tools. Ordering by the percent of audience that engages-with a source is rare. In fact, I don't even know of another public product on the market that offers it. When I email and video call with folks doing digital PR, it's that number and the sources uncovered by it that have led them to SparkToro.
Using SparkToro for Social Media & Content Marketing
Social media and content marketing are vast disciplines containing huge numbers of tactics. SparkToro doesn't help with even 10% of those. But, if you're the kind of social media marketer who needs to find your audience online so you can engage them where they pay attention, follow the voices they listen-to, use the language they use, and learn about the trends in their ecosystem, it's a massive time-saver.
Truly, Inc isn't alone, but I can say that they're one of the most unique and uniquely creative agencies applying SparkToro's data. What Tara and her team have done for client pitches and projects is nothing short of genius. Little wonder they've been one of the breakout agencies in their fields the last few years.
I don't say this to blow smoke. My first in-person meeting with Tara was in early 2019, while we were still designing the product. Their input *literally* and without hyperbole, informed how we built SparkToro.
Via Alison K's Tweet
But social media marketers aren't the only ones who benefit from the ability to get amplified on social. For content marketers, too, this has been a big use-case. In fact, of our in-house subscribers, content marketing is the activity they used the product for most.
What does that entail? Well, turns out, every time any of us publish a new blog post, article, episode, guide, whitepaper, webinar recording, etc. we need to get eyeballs on it. SEO is great, but rankings require links, and for most of us, organic links come first from social media visibility.
A few dozen of the right tweets, LinkedIn posts, Facebook shares, Instagram bumps, Reddit submissions, etc. can drive eyeballs and visits that lead to links. And even for those in the SEO world who believe Google completely ignores all social signals, there's an undeniably high correlation between content that performs well on social platforms and what earns top ranking positions.
But content marketers look further than just social; websites, podcasts, YouTube channels, and topically-relevant audiences everywhere are targets for a wide variety of outreach and pitching. I suspect this is why content marketers use SparkToro so heavily. Every piece they launch needs promotion, and as Ross Simmonds so wisely puts it:
In a world where distribution rules, knowing where to distribute is a superpower.
Using SparkToro for Market Research
I'll be honest. When we conceived of SparkToro, and even when we launched our beta, I worried if market researchers would adopt it. But, in a twist, instead of classic research professionals using our market research tool, it gained traction with agencies, consultants, and in-house marketers who needed the data but couldn't wait for traditional market research (which requires long survey-creation and collection processes).
The more you know about the audience you're marketing to, the better EVERY channel works for you, as illustrated by Andrew's example below:
From Andrew Charlton's LinkedIn Post
Andrew's not just a wicked smart marketer. He's a wicked smart researcher who recognizes that modern SEO is about… well… more than SEO.
The key to rankings and search traffic used to be a combination of technical, link, and content signals. Today, there's a whole host of signals related to brand, to audience affinity, to how well Google can peg whether that content, on that site, amplified by those sources, will solve searchers' problems. If you want to be good at that modern version of SEO, the one that's inclusive of audience empathy, brand building, amplification (outside of just links), and website authority (the concept, not the metric), yeah. SparkToro's pretty good at that.
Jeremy Osborne saw it when he first reviewed the product: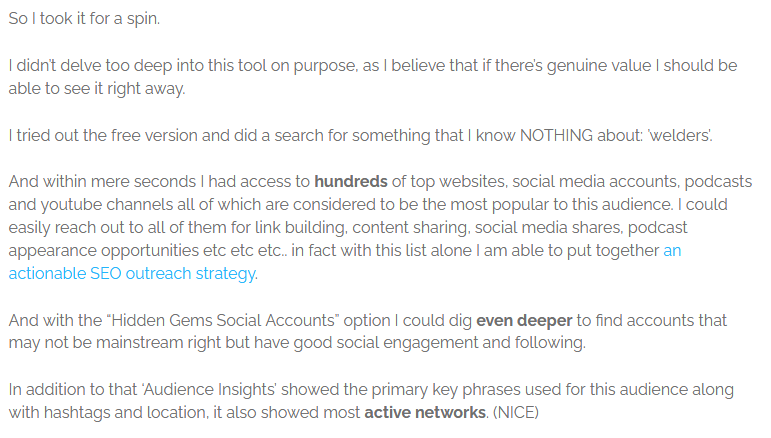 From Jeremy Osborne's review of SparkToro
Credit where credit's due. I might have been a decent SEO in my day, but as the field's evolved, the practitioners have kept up. Now, I'm in the lucky position of making a product that's serving not just new audiences of marketers, but my old colleagues and friends in search marketing, too (at least, those who know how to apply audience research).
Using SparkToro for Digital Advertising
If you run ads on Facebook, Instagram, YouTube, and the Google Display Network, you know how much data is (intentionally) missing from those tools. If you've been in that world a long time, you can even remember when Facebook & Google used to provide a lot more information about the audiences you could reach through their platforms.
Take Facebook Ad Manager's "New Audience" Builder. It's terrible. The UX is a nightmare. The inputs are a Kafka-esque combination of far too permissively unhelpful while simultaneously lacking in distinct, refine-able audience drilldowns. Facebook makes a killing on how hard it is to understand an audience well inside their product. And the rest of us kill our budgets trying to narrow ad targeting down to the right people.
No surprise then that detailed data about an audience's online behavior, especially on social networks, is a huge step up.
Agencies like We Are Engines can make smarter media, ad, and display buys for their clients, even without deep audience knowledge, because SparkToro's data puts it at their fingertips.
What other interests do stock option traders have? Boom.
How do they describe themselves? Boom.
Where are they located? Boom.
What hashtags do they use? Boom.
What pages do they follow/engage-with? Boom.
What do they talk about online? Boom.
But social and display ad intelligence isn't the only advertising use-case. As Eric Mager points out, it goes beyond the programmatic:
This definitely ranks among my personal favorite use cases. If you know where you can reach your customers and potential customers, and you don't *have* to pay Facebook and Google, why should you? Hell, why *would* you? Just go direct!
Knowing that the audience you want to reach is target-able through websites, podcasts, YouTube channels, and accounts on social networks means you can put budget directly toward those sources. In many cases, you'll probably save a lot of money on what programmatic ads might cost, AND, you'll be able to craft more creative, higher-performing campaigns.
Using SparkToro for Audience Building
You've got a community, a website, a podcast, a series, an email newsletter… and you want to grow your audience. There's loads of marketing techniques available (and I've got some recommendations on which ones to pursue if you're just starting out), but before you choose where to invest, you've gotta know your customers.
Audience research is the simplest and most straightforward of the functions SparkToro serves. If your goal is to build a base of people who engage with what you create, it's also among the most essential. And, in this case, we've seen that a huge portion of our free users, especially from the artistic, creative, and entrepreneurial worlds, use SparkToro's data to make sure they're on the right track.
When they need more sophistication (or when they're professionals, helping an organization get a deep understanding of their audience), the paid subscriptions give more detailed data, in greater quantities, with more features.
But, I'll be totally honest—I love how much we've been able to help folks gain insight into their audience building efforts without costing them a penny. That tweet above, from Brie? She mentioned on Twitter that she's a free user of SparkToro. To provide that much value to people, especially in rough times, makes my heart happy.
Please, please, keep using SparkToro for free. Your free searches refresh every month, and whenever you need more, we'll be here.
Using SparkToro for Creative & Brand Marketing
A couple months ago, I jumped on a video call with Dean McBeth from Shepherd, a strategic and creative agency that's done some incredible client work. In all honesty, my understanding of how those agencies operate and the work they do for clients ("strategy" and "creative") was always a bit nebulous. I'm used to much more tactical-centric forms of marketing (SEO, PR, Content, Email, etc), but the examples he shared were mind-blowing: finding gaps between market demand and supply, identifying an audience's emotional triggers, using data to determine packaging, positioning, pricing, launch strategy… Cool stuff.
This call wasn't just happenstance. Dean and Shepherd became SparkToro customers a few weeks earlier and they were already putting the data to use inside their pitches and campaigns.
Since then, I've talked to a handful of other creative, brand-building and creative-strategy-focused marketers who've been taking bits and pieces of data from our product and applying in scenarios with a SparkToro-sized gap.
From Justin Welsh's walkthrough of SparkToro on LinkedIn
Justin's walkthrough on LinkedIn was a great example. So, too, was Kelly's in-house use case for product and sales strategy, below:
From Kelly Bakhos' LinkedIn Post
Creatives and strategists, product managers and salespeople, all plugging up holes in their audience research… That's brought a surprised, but delighted smile to my face. Given I'm no expert in this world, I won't try to deep dive on the specific applications. What I can say from my conversations is this: it's broad. No two are the same, or even all that similar. Some involve geographic and socio-political data to inform stylistic choices. Others entail platform and publication intel to personalize ad design and messaging. And still others are about how people prepare their presentations and conversations (internally, to customers, and externally, to clients).
I suspect in the months ahead, I'll get a much better understanding of this world. Dean and his team have already been giving me a great education.
---
By no means is this list comprehensive. We've got a political strategy consulting firm using the tool to analyze audiences for the upcoming US election. We have researchers in the medical field using it to understand pro and anti-science audiences. I talked to an entrepreneur last week using the data to validate the audience size for a new product and surrounding community.
My hope is that this list doesn't limit, but rather, inspires you to consider how and when the data might be useful in your work. When that's the case, if a free account does what you need, we're honored to help. And if you need more searches, results, and features, we hope the ROI you earn is many multiples of what you'll spend on a subscription.
Anything Casey or I can do to help, just drop us a line.