Update: We hosted a SparkToro Office Hours webinar about audience personas. Sign up to watch the replay.
I have a bone to pick with buyer personas, but it's only because I like them (in contrast to Rand who doesn't like them; yes, we can disagree).
My quibbles? There's a misguided focus on demographics, arbitrarily chosen stock photos, and cutesy alliterative names. Your customer's gender rarely has anything do with their purchase decision, and it doesn't matter if you name them Marketing Martin or Finance Fiona.
And come on. If this isn't proof that demographics are irrelevant in a buyer persona, I don't know what is:
So how are buyer personas helpful? They offer a mental model mapping the characteristics that embody your ideal customer. Buyer personas offer practical guidance for moments when:
Copywriters need to write new website copy
Brand is trying to test how a new product name is received
Demand Generation wants to create a series of white papers for account-based marketing campaigns
All of these marketers need to know who to make their thing for, and who to beta test, survey, interview, or amplify to. But classic personas are so reductive and stereotyped that they're almost worse than nothing.
Instead, I'll argue that it's more helpful to create personas across marketing disciplines — a group of audience personas, if you will. A group of audience personas would serve as various "ideal customer profiles" across your marketing functions. Marketing stakeholders within your organization would use these personas, helping them to map ideal "customers" to their marketing objectives.
Here's how that looks:
Buyer persona: for the entire marketing team, the classic buyer persona is a fictionalized avatar that embodies real characteristics of your various ideal customers. I encourage you to think beyond the oversimplified fiction and instead focus on the qualities that drive your customers to purchase. These could include a sampling of their actual job titles (likely more relevant to B2B marketers), their motivations, their pain points, and their sources of influence (like the websites they read or social accounts they follow).
Amplifier persona: for the PR or brand team pitching to people who could potentially amplify your brand/content. This includes a wide variety of content producers: reporters, podcast hosts, similar brands (who are not competitors), and industry creators. It might even include your employees who may be inclined to share company updates. My hunch is that as the creator economy continues to grow with niche newsletter writers and podcasters across discrete content platforms, so too will the need for amplifier personas.
Attention persona: for the content or editorial team responsible for distributing the brand podcast, growing the newsletter and increasing YouTube engagement — the content channels that go beyond traditional SEO. Of course, the ideal scenario is that the people who are paying attention to you also become paying customers. But these people may also include journalists, analysts, investors, industry creators, your peers, and even competitors — all of whom could influence purchase decisions but are unlikely to become customers.
Content marketing has evolved. More brands are building, buying, or becoming their own media companies. The savvy, often-jaded operators who run these in-house media teams scoff at dated tactics like media pitches, backlink requests, or guest post submissions.
That podcast host you're pitching isn't just some talking head. They might be a marketing manager, a founder, or a subject matter expert who was hired to host the show.
The writer you're reaching out to isn't a reporter at the local newspaper, accustomed to using PR to build stories—they're a former tech worker-turned-indie-writer who now has an influential Substack (and hates cold pitches).
And that blog you asked for a backlink? Yeah, not gonna work. They don't care about keywords, SEO, and getting or giving links. They're focused on thought leadership positioning. And they simply don't accept guest pitches. (Er… like our blog.)
All of this means that distribution and outreach don't work like they did the last 15 years. A new generation of far more digital-marketing-savvy operators are running today's web ecosystem. Which means you need a clear understanding of these people's business/marketing objectives, as well as their motivations and frustrations.
If I were building out a set of these audience personas today, here's how I would do it…
Step 1: Start with macro-to-micro research.
If you think about your research at the macro level — industry or category trends — and then work your way down to the micro level by consuming what your audience consumes, you'll be able to create a solid foundation for yourself.
Of course… if you already know your industry well, you can probably skip to Step 2.
Sites and services like Google Trends, Exploding Topics, and BuzzSumo will give you a sense of what's trending in your industry. In the case of Google Trends, you can even run parallel searches to better understand your landscape.
Here's one idea: Run several Google Trend searches of niche vs. brand name if you want to see the moments in which these brands got notable recognition.
Zoom in a little more, and try tools like SparkToro (because, of course), Feedly, A News Tip, and Front Page Metrics. SparkToro will allow you to see the influential social accounts, websites, press, podcasts, and YouTube channels in your niche. Feedly will help you discover even more sites or feeds. A News Tip will show you the most relevant journalists in any given beat along with their recent article. And finally, Front Page Metrics will show you the fastest-growing Subreddits.
And now that you have a better sense of who specifically your amplifiers and consumers are, you'll want to zoom in even more and get on their micro level: consume the content your audience is consuming.
Where are these people hanging out online? What and who do they already pay attention to?
I know a tool for that. 😏
Example 1: Let's say we generally know what topics our audience is discussing — but we don't know the specific social accounts, websites, podcasts, YouTube channels, and press they most pay attention to. We can search by topic.
My audience frequently talks about: clean makeup:
This search for "clean makeup" shows data on people who care about makeup that's made without ingredients like sulfates, parabens, and talc. Specific yet broad, as we've found well over 100,000 people in this niche. But in the Text Insights, we can already see that some of the frequently used phrases among this audience include "makeup tutorial" and "smokey eye." If I sold a clean makeup product, I'd definitely shoot a video tutorial on creating a smokey eye.
Or maybe I'd want to partner with makeup YouTubers and ask if they would do a smokey eye tutorial. I'd like to look at this data by subscriber count or maybe by average number of views.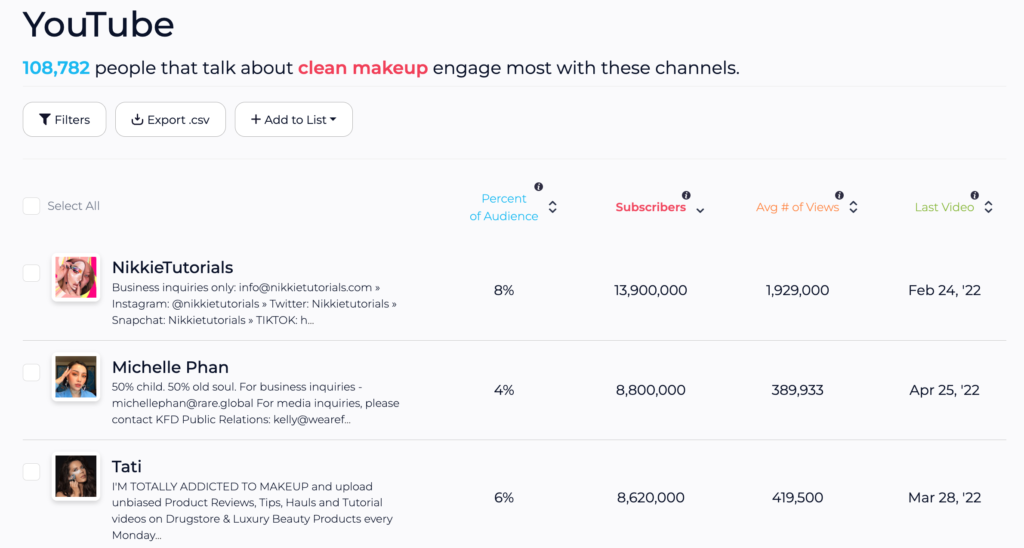 I'd create a list of these folks and reach out to them via their publicly available contact info (which, yes, I can get in SparkToro!).
Example 2: For a different, non-B2C example, let's say I already know some of the most influential social media accounts in a niche of, say, venture capitalists. I'd run a SparkToro search to analyze some of these people's social accounts:
My audience follows the social account: myfriendjanine:
Janine Sickmeyer is a former SaaS founder-turned-VC. She's well-known and well-connected, and she might lead me to other VCs. Lo and behold, folks who follow her also engage with people like Elizabeth Yin, Mac Conwell, Paul Graham, Lolita Taub, and more.
As for influential podcasts? Those would be This Week in Startups, The Twenty Minute VC, Masters of Scale, First Rounders, and more.
You get the point.
Listen to those podcasts. Subscribe to the influential newsletters. Follow those social accounts — and engage with them. It's the micro-level research that will best inform your outreach. You'll know what's top of mind for the podcast hosts you're reaching out to, or what trends those journalists are keeping a closer eye on.
And ideally, through some combination of social media engagement and outreach, you'll build relationships with people who represent your buyer, amplifier and attention personas.
Step 2: Understand these audiences' motivations.
In a traditional buyer persona development process, you'd interview potential buyers. But there's little chance you'll be able to get a niche influencer to agree to an "amplifier persona" interview.
Fortunately, understanding their motivations is a lot easier than trying to dive deep into buyer psychology in a mere phone call.
For your amplifier persona:
I'd be willing to wager that an amplifier — someone with an influential publication, a podcast, a newsletter, a YouTube show, or a large social account — has a topline goal of growing their audience.
Then their strategies are likely to be to:
Create high-engagement content to drive additional followers and subscribers: Refer to Rand's "Who Will Amplify This And Why?" to find descriptions of the different types of viral-likely content, which include novelty, controversy, fear, surprise, and more. And as you develop your pitches for them, consider your supporting role in those types of content.
Build affinity to increase retention of their audience: Creators build affinity through cultivating solid reputations. Their content doesn't just bring new people into the door. It also proves their credibility in their space and makes the case for why readers, listeners, viewers, etc should trust them. Think: As you develop relationships with amplifiers, how does your brand, expertise, or content help boost their credibility?
There is one group of people in your amplifier persona who bucks the trend of growing an audience: employees. Your team members are uniquely incentivized to amplify company news or updates. There's a high chance they're on LinkedIn, where they might have anywhere from 500 to 999 connections — a built-in audience. Their motivation is likely along the lines of career satisfaction and professionalism, and maybe even showing pride for their employer. It has a similar theme of reputation management that also motivates influencers or creators.
For your attention persona:
It's important to know that the people who are likely to pay attention to you — for the purpose of learning from or being entertained by you — might not amplify you. And even if they do, a handful of these consumers might not have the sizable audiences that move the needle on your reach.
Their goals are likely to be either or both:
Staying closely informed: They're tracking trends within your niche and staying up to date on the latest news. They're looking for value, and with this goal, that value is typically novel information. They may or may not share your work with their network. And they may or may not leave comments on your blog or social media posts. Think: investors in your sector who have a (literally) vested interest in pattern-matching or following trends closely.
General networking: They might be looking at trends or keeping up with the news, but they're not following as intently. They want the high level — enough to know to trust you, but they might not be making day-to-day decisions based on your content. If information and entertainment are a spectrum, the value they're looking for might be closer to the side of entertainment.
Step 3: Collate your insights into a format that's easy to share.
At this point, you know your industry well and you know of the main sources of influence. You have a solid understanding of the motivations across your entire audience base. Hopefully, you've even started to develop friendly relationships with some of these people.
Once you have all these data points from your audience — who they follow, what they read, watch and listen to, and what motivates them — you can collate the findings into persona templates so that you can easily share the insights across your marketing team.
Here's the part where I'm supposed to show you a Google Slides template that looks something like this:
But something tells me none of that will tell you what you need to know in order to sell to your customer, amplify your brand, or get readers to pay attention to your blog.
Instead, I'll suggest you distill your findings into lists. Maybe half a page for each persona. Enough information that allows your team to refine pitches and source inspiration. I think it should include:
Who they are
Their motivations
5-10 influential social accounts
5-10 influential website and/or press
3-5 influential podcasts (or other influential content type)
Their target audience
3-5 trends or topics that are likely to be top of mind
That data might change every several months. In fact, it probably should. Your marketing campaigns shouldn't depend on a static PowerPoint slide that's updated once every two years.
And if you want a resource that you don't need to update at all, check out our new Audience Tracking feature. You'll be able to automatically see how an audience's behavior and demographics change every two weeks.
Like:
Trends over time with any audience you care about, including history
New, fast-growing social accounts
Podcasts that are growing in popularity among a competitor's followers
Hashtags and topics that are rising vs. falling
Demographic shifts among an audience in the past few months
To get started, just run a search in SparkToro and click "Track Audience" in the top right corner of the results.
—
Update 6/30/2023: SparkToro user Mariya Delano kindly created a template based on our audience persona framework. You can download it for free on Notion.
—
We hosted a SparkToro Office Hours webinar about audience personas. Sign up to watch the replay.
—
Thanks to Adrienne Barnes, founder of Best Buyer Personas, for her early review of this blog post.