Last Saturday, I received an email from Rich Wilan, founder of Fascinate Productions. Rich and his team help podcast creators build audiences and top charts, and they're very good at their work, helping clients like Zoe: Science & Nutrition, Startup Dads, A Cuppa Happy (and more) launch, grow, and reach chart-topping numbers.
Rich kindly gave me permission to make my reply to him a blog post, to hopefully help others benefit from both their process and the application of SparkToro's data.
First off, I love Rich's kickoff process.
Find brands and influencers interested in creating podcasts
Run a creative strategy workshop
Produce a brand brief: positioning statement, value proposition, & audience avatar (persona)
Far too few marketers treat content endeavors like a product, but that's exactly what they are. A podcast, a blog, an article repository, a whitepaper library, video or webinar series, presentation hub—these are just products and if you treat them like something you're selling to customers (even if the price is free), rather than a marketing tactic, superior results will follow.
On to Rich's questions—how do we apply SparkToro's audience data to help an episodic content series (like a podcast) succeed?
An episodic creator (the term I'll use from here on out to refer to podcasters, video series creators, webinar hosts, and the like), just like a product leader, needs a deep understanding of their content audiences, both existing and potential, in order to deliver results. It's usually obvious to creators that if they make episodes their audiences…
don't want, those audiences won't even click the play/listen/download button
don't find enjoyable, useful, and engaging, those audiences won't keep listening or watching
don't want more of, those audiences won't subscribe
What's less obvious is that if creators make episodes that don't incentivize sharing and amplification, they won't earn an audience, blunting their work's impact. No wonder so few episodic creators get past the first few episodes.
When Fascinate Productions works with episodic creators to plan their positioning, value prop, and audience brief, they produce an invaluable roadmap for top-level strategy. When creators design episodes, they need to repeat (a lighter version of) that same process to get the most amplification and audience growth opportunity from their work.
This is where SparkToro enters the picture. Audience research can tell creators:
What their target audience's demographics (job titles, roles, skill & interests, geographies, gender & age, etc) look like
What topics their audiences are talking about and engaging-with
Who and what else their audience pays attention to online (social accounts they follow, websites they visits, podcasts they listen-to, YouTube channels they subscribe-to, etc)
These data points directly map to jobs creators need to do at both the top-level strategy, and to maximize each episode's potential reach.
Let's use ZOE's Science & Nutrition podcast as an example.
You can see that ZOE's producing episodes on topics that are intended to attract their listeners' attention, educate (and entertain) them on a particular subject, and earn potential amplification that will attract new listeners. Even as someone who doesn't closely follow the nutrition science space, I'm already intrigued by episode titles like "Is coffee healthy?" and "What's the story with food intolerances?"
At the highest level of ZOE's audience research, SparkToro can provide a lot of data about the behaviors and demographics of the broad group that regularly talks about nutrition online.
Knowing this audience's words-in-bio (i.e. terms and phrases that appear in their Twitter bios, LinkedIn profiles, Facebook and Instagram "About," etc) and demographics (gender, age, job roles, skills, geography)—is incredibly useful for building what Rich and the Fascinate Productions team call an "audience avatar," or, as Amanda recently wrote, audience personas.
That data can help the creator and the Fascinate team design better positioning, craft a more compelling value proposition, determine how to brand and market the series, and more.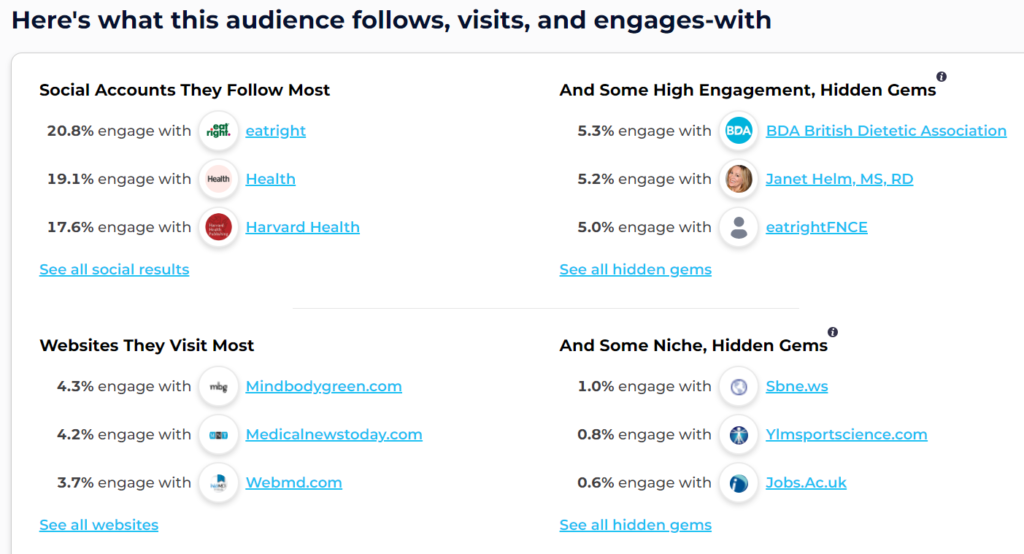 Scrolling down in SparkToro's Overview shows us the audience's online behaviors—what they watch, read, listen-to, follow, and engage-with.
These sources of influence have three particularly useful applications for creators:
We can study the existing sources of influence for content ideas, gaps, and signs of what worked and didn't. Podcast/YouTube episode view counts, social shares and links to particular pages, etc. can help here (just scrolling through manually is often enough, or we can employ tools like Moz's top pages, RivalIQ's tracking, or Buzzsumo's share analysis).
We can investigate their content and marketing practices to see what worked for them and identify tactics we might imitate or experiment-with (e.g. looking through those sources' social accounts, links, news coverage, mentions of them, etc.—Google News, Buzzsumo, and simple Twitter, LinkedIn, and Reddit searches can help here)
We can plan out how to get coverage and amplification from these sources. Whenever I start a content effort with amplification as a goal, I'm thinking about who will help me amplify the message and why. The best marketing, full stop, comes from the sources your target audience already follows, and if ZOE can put together the content, guests, positioning, networking, and processes that will get EatRight, WebMD, MindBodyGreen, and Harvard Health to amplify them, that's a huge advantage.
But, of course, unless we have the list of sources with significant audience overlap, we can't do any of those things, which is why SparkToro (or a tool/process with similar functionality) is crucial.
Those same three processes above can also be applied to every episode ZOE publishes.
Step 1: Plan the Episode's Content
What should the next episode of Science & Nutrition cover? Well, from looking through the text insights (keywords, phrases, and hashtags) data, it looks like there's a lot of interest and discussion around "Detox," but so far, ZOE hasn't done an episode on that subject.
This process of finding gaps in what you've covered and what your audience is talking-about/engaging-with is a stellar application of SparkToro's data. Search keyword tools like Moz, Ahrefs, or SEMRush can tell you what people are searching for, which is fine, but they can't tell you *who* is doing those searches. SparkToro doesn't include search data, but it can tell you what specific groups of people are writing in their tweets, comments, IG/FB/LinkedIn posts, and soon, Reddit comments, too.
Step 2: Determine the Distribution Plan
What platforms should you use to distribute your episode? How should you structure your social posts and emails? How do you craft compelling calls to action that get folks clicking and listening/watching?
SparkToro can show you two things here:
A) Who is having success, especially in spreading their episodes through social platforms (since that's where the majority of our data is sourced)
B) Where and how are they distributing their episodes (because once you know the "who," you can search Google and the social networks for the episode titles + series name, and see exactly how they promote them)
I'm not suggesting you whole-hog copy another publication's process, but I would recommend learning which platforms work for which of your competitors, and forming theories about why. Then you can use your own creativity to form promotion plans that hit similar groups.
Step 3: Outreach and Amplification
Who will help you amplify each episode, and why? That's, IMO, the most crucial question to answer before planning and publishing a piece of episodic content.
For ZOE, and many podcasts, the obvious answer is: "the experts/influencers who are interviewed as part of the show." This is a good start, but it's rarely enough on its own.
SparkToro can help in two ways:
A) Choose the right "guests" to come on the show. The people most interviewers, event organizers, and creators want to partner with are those that have both interesting, relevant expertise AND an engaged audience that will follow them to your platform. SparkToro's literally made for this.
I've applied two filters in the screenshot above: "Hidden Gems," (which shows accounts that have high engagement, but smaller total following) and "Individuals," (which biases to singular people > organizations and brands). The accounts shown, and the hundreds on the list below these, are exactly the types of guests I'd want on a podcast to discuss "Detox". They're likely to not just have interesting opinions and stories, but also bring along an engaged, relevant audience.
B) Find partners for distribution/amplification. Guests shouldn't be the only folks amplifying an episode. You want engaged listeners, influential individuals, and hopefully a few publications to amplify your episodes and maximize reach.
Granted, this will be harder for newer content creators, but it's also bigger impact when it works. The creator's job is to find sources that have an incentive to consume their work and re-share with their own audiences. Sometimes, that's as simple as sending an email or a DM with a message like "I think this might be up your alley." Sometimes, it's far more difficult, requiring a professional PR approach of courtship, relationship building, pitching, and iteration before an eventual connection is made.
Philosophically, you're trying to find the shared value between your brand (and the episode you've created), and the source's goals.
Maybe they're passionate about a subject you've addressed in the episode? Or they have a grudge against a position you (or your guest) debunked? Perhaps a direct relationship with that guest (in which case, you might be able to ask for a warm intro)? Or they follow that person's work and would be likely to share something that features them? Maybe they even got talked about on the episode?
The number of possible approaches are infinite. Your job as a creator is to know who those targets are, identify reasons they'd be likely to amplify, and employ them.
SparkToro can help directly with the first part: identifying those sources of influence. You can even build a list of them right in the product.
It can also help with the second part: putting topics, hashtags, related sources, and their social channels at your fingertips so you can easily track what's likely to get their attention and serve as an incentive. This process still requires a healthy dose of empathy and creativity, but at least SparkToro can get you started.
Beyond the above, there's plenty more SparkToro can do, e.g. ad targeting, digital PR, content strategy, tactical social media, competitive analysis, keyword research, etc. But, these are nicely covered in our How to Apply SparkToro's Data resource, so I won't belabor them here.
---
On both the strategy and tactics elements of episodic content creation, SparkToro's a pretty darn useful solution. When I was an episodic creator (in my many years doing Whiteboard Friday), I'd have killed for a tool to illuminate these paths. I had to do the manual research each week of figuring out topics from search volume, conference chatter, Twitter conversations, LinkedIn discussions, industry news, etc. Then take my best stabs about who and where I could look to for amplification. Often, it was pure guesswork with little to no data to back me up. And, in all honesty, a lot of the time I'd just skip the process entirely.
Don't be like me. Use SparkToro (even just the free version!) to get inspired, get content ideas, see what's working for other publications and podcasts, and find sources of influence that will make great guests and amplifiers.
Your audience will thank you. So will your analytics.
P.S. A huge thanks to Rich and Fascinate Productions for letting me use their questions about SparkToro to inspire this post. If you're reading this and interested in building/marketing a podcast for your brand, check 'em out.