On November 10th, we're running SparkToro's first-ever marketing summit: SparkTogether. It's live. It WON'T be recorded (because our presenters are sharing confidential numbers and information). And we'd love to have you there. For details and tickets, check out the SparkTogether 2022 Event Page, or read on for more background.
Early bird tickets are on sale until Oct. 8, then prices go up 😉
My core hypothesis re: marketing events—a great event isn't good enough
In 2008, I was running a consultancy-turned-SEO-software business called SEOmoz, and wanted to create an event series that was better than the many other conferences I'd attended in that space. We called it Mozcon. The big differences for that event vs. the existing marketing conferences of its time were:
Better venue
Edible, enjoyable food
High-production value stage, lighting, and recording
The right city at the perfect time of year (Seattle, just before its tech boom, in the summer when the rest of the US is way too hot, but the Pacific NW is just right)
Higher quality speakers, held to higher standards, w/ presentations reviewed by our team
Single-track, all-keynote style talks
No salesy vendors, booths, self-promotional speakers, or paid sessions
TV-quality recordings of every session for every attendee
A focus on speaker diversity
Fun, inclusive, everyone's-invited afterparties
Some of those evolved over time (e.g. Mozcon eventually invited companies we trusted to set up booths at the event), but many remain in place even to this day (at least, to my knowledge; I haven't been involved in the event since leaving the company in 2018).
These features helped make Mozcon one of the premier events in the space. Despite costs ranging from ~$500 (in the early years) to $1,300+ (the last years I was involved), it regularly attracted 1,000+ attendees from all over the world, and delivered an exceptional experience. I say that as someone who was, undoubtedly, one of my company's harshest critics.
And yet, I don't believe that by replicating Mozcon's product, or even improving on it, you could build an event today truly stands out.
Why Isn't a "Great Event" Enough?
Because today, everyone does those things. Keynote-style talks on high production stages with top-notch speakers, good food, and great parties are table stakes. They're everywhere. Most major cities in the world have at least 2-3 marketing events like this already; some have 6 or more. The space is crowded.
A slide from our Office Hours on Event Marketing
To stand out, to be worthy of earning attendees, we need to build something different.
SparkTogether wasn't my idea. That genius move is all Amanda Natividad, who pitched Casey and I on the event concept. My suggestion was simply that we innovate on the format and structure. Here's an early email about the event's development:
SparkTogether's unique value proposition is just three big things:
It's Story-Focused. Every speaker is giving a marketing-centric narrative. There's no lists of "10 things to do when Google changes its algorithm" or "How to increase you email open rates in 2022." We think that content, while valuable, is better in blog posts, web articles, and how-to videos. Live events are about emotion, engagement, and exclusivity—stories perfectly fit that bill.

You'll Hear Confidential Information. My favorite business stories are the ones usually told at quiet tables, in back rooms, and during emotional, 1:1 discussions. That's the only time you get to hear the ***good*** stuff, because the storyteller doesn't have to pull punches or worry about being misquoted. We can't perfectly re-create that on a stage (virtual or live), but we can get close, by NOT recording, and by asking attendees not to share any slides or information marked by speakers as "confidential."

The Excitement of a Live, Audience-Participation-Heavy Event. My favorite part of our Office Hours every month is the live chat. Marketers who join SparkToro's 60-minute webinars are awesome; they're lovely to each other, they're engaged with the topic, they're constantly suggesting additional ideas and sharing their own stories of tactics that worked (or didn't). That energy is something we're leaning into deeply with SparkTogether. If history's any guide, you can expect a rich, robust discussion in the live chat all day.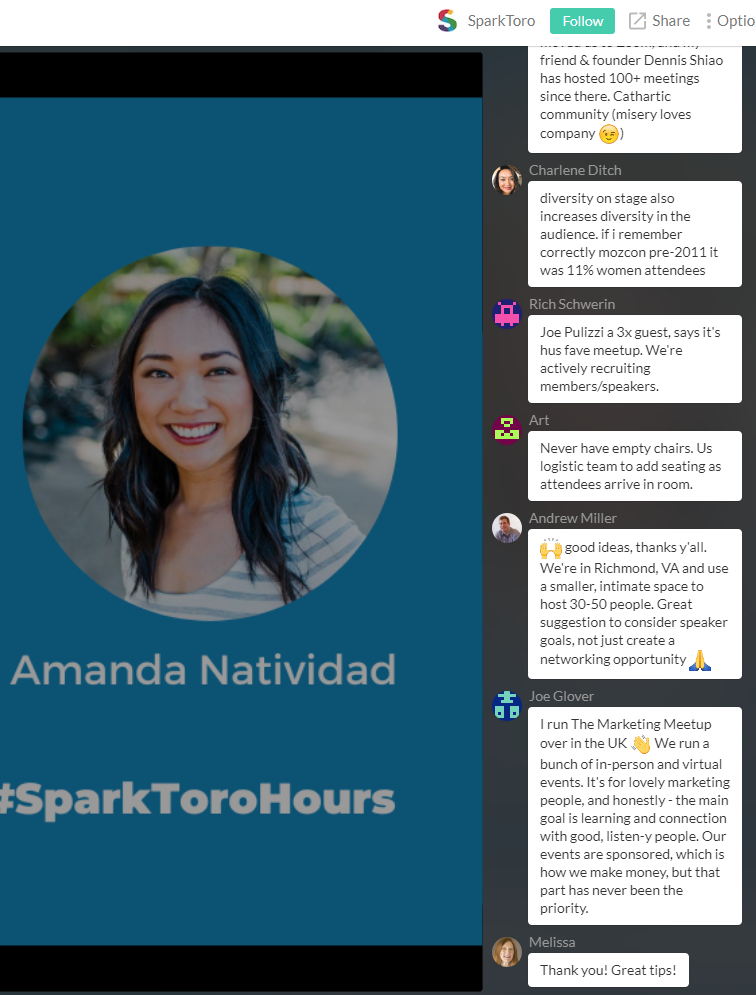 A sample of the live chat from SparkToro's Office Hours
These three features are hard to find, alone and certainly in combination, from any other offering we know of in the marketing world. We think they combine to make SparkTogether something that's worth your time. It can upgrade your marketing savvy, inspire you to try things that worked (and avoid things that didn't), and even offers networking of a sort (the closest non-awkward version of it possible in a virtual environment).
Why Virtual Instead of In-Person?
Easy—price, and simplicity.
Price: Hosting an in-person event costs organizers a lot. Mozcon could afford to break even or even lose money a few years. Hubspot could, famously, afford to lose millions each year with INBOUND. Venture capital backed both, and gave them freedom from profitability requirements. If you don't have that luxury, you need to charge attendees a pretty penny, and you'll need to be strict on the cost-side, too (which often means a worse experience in food, venue, production value, etc).
With early bird pricing, SparkTogether is $200 (or $100 if you're an existing SparkToro subscriber). Regular price tickets will be $300.
We'd be hard pressed to charge 5X that if we hosted the event in-person in a major city like Seattle. Add in flights, hotels, meals, and extras, and each attendees bill would likely top $2,000. We might try it next year, but for now, we'll walk before we run.
Simplicity: For attendees, virtual events are 100X easier to attend. You can join in while doing other activities like childcare, chores, food prep, or TikTok, i.e. the kind of thing we optimize for with our Chill Work philosophy. Mute the presentations for a minute to answer an important email or get a delivery. There's no plane fare, no transportation or lodging stress, no need to worry about which outfit looks good with which shoes, and more importantly, no need to sweat whether the next Covid variant is going to breakthrough the bivalent vaccination and wreak havoc on your family and friends for weeks or months (it's still the third-leading cause of death in the US, killing hundreds of people every day). Frankly, our tiny team just isn't ready to manage the complexity of an in-person event.
That means, we need to lean into what makes virtual events great:
At our size, by my estimation, that's 80% content, 20% hype.
Hopefully, this blog post (and the marketing you'll see from us over the next 60 days), will take care of the latter. Our extraordinary speakers will do the rest.
How to Choose Great Stories and Storytellers?
Amanda and I are very lucky, because nearly every day, we're interacting with dozens of people in the marketing world on Twitter and LinkedIn, and usually 1-2 in deep, lengthy conversations over video interviews, podcasts, webinars, livestreams, and the like. We hear a lot of stories from a lot of people.
When one stands out, we make a note. And over the last few weeks, we've asked a dozen of them to join SparkTogether and share those incredible stories.
Above: Our first 9 speakers, with more to be announced soon
Here's just two examples:
#1) BlackIllustrations.com – I first learned of John Saunders' work (and his agency, 5FourDigital) on Twitter, soon after he launched Black Illustrations, a repository of purchasable, licensable vector art that filled a hole in the digital illustration market. Watching that site go from a few visits to millions in revenue was eye-popping. When you hear the full story from John, who ran the project as a side business while simultaneously managing an agency, you'll be blown away. The PR, social, branding, SEO, advertising, and content tactics John deployed are an incredible case study in profitable, scalable marketing for a new online brand.
#2) No Hard Feelings & Big Feelings – These are two of my favorite business books of the last few years. Both are deeply empathetic, practical, and enjoyable reads. I've occasionally interacted with the authors, Liz Fosslien and Molly West Duffy, but when I reached out to see if they'd be willing to share their experience writing, illustrating, and marketing the books (and building huge social followings around the topics), it was a long shot. These are WSJ bestsellers, with a myriad of awards (including an NPR Best Book of the Year selection). Getting to hear real sales numbers, what worked to build their marketing engine, and how they applied lessons from book #1 to book #2 is an incredible opportunity.
I bet you've seen their illustrations on your social feeds:
Hearing these stories directly from Liz Fosslien, John Saunders, and all our speakers is a rare treat. We believe these are people and narratives we'd pay to hear individually. When combined with a great, live crowd, and a structured format of back-to-back stories that expand on different channels, tactics, and effectiveness, we think there's a possibility to achieve real magic.
---
On November 10th, from 9:30am-3:20pm Pacific, we hope you'll join us for the first ever SparkTogether event. If things go the way we hope, in the years ahead, you'll be able to say you were at the start of something unique, extraordinary, and valuable. Reminder: there's no recording, which means you've got to be there, live. Hope to see you then!
P.S. Apologies to folks in time-zones unfriendly to the live event. We hope in years ahead to offer a physical location, potentially in rotating regions, to help compensate.