As I write this, it's New Year's Day. It's a holiday, and I shouldn't be working. I should be doing things that make me happy and bring me peace and joy. I'm in Palm Springs, California with Geraldine and Sarah and Eric (and their 2 year old son). We rented a house with a small pool out back, and have been lounging in the sunshine and drinking too much and watching movies and playing with our tiny companion. And today, I realized what would really make me happy is to create something (this blog post) and reflect on last year. So this post isn't "work." It's my "fun-vacation-project-thingy" that I just happen to be putting on the blog. And if you just happen to read it and enjoy it and find value here, that's wonderful, too. 🙂
In the Spring of 2013, I read a book called The Happiness Project. I really enjoyed it, and I've even tried to apply it a little. One of the big takeaways for me was the author's advice, based on some reasonable evidence (that I'm not particularly interested in verifying and linking to right now), that remembering happy times, specifically by looking at pictures of those events, could create happiness now. So I opened up Flickr and browsed through Geraldine's sets from the year, and I marveled at the year we had. I've crafted a foolish narrative in my head that 2013 was a really tough year – even a bad year – because the things I wanted to happen in regards to Moz's growth didn't go as planned. But measuring years in percentage growth for your startup's revenue is unhealthy, and probably bordering on crazy (which doesn't mean I still don't do it, I just know it's wrong). Looking through those photos brought me great happiness, and reminded me that this year was about more than the acceleration curve of monthly recurring revenue.
Hopefully, you'll derive some fraction of the happiness I got from these 29 photos and their accompanying stories.
To start, some credit where credit is due. This post, and these happy memories, and these wonderful photos wouldn't be possible without the beautiful lady below.
Geraldine's constant photography can sometimes forestall a meal or make us late or spur some serious sidetrips, but I love all of these and, of course, I love her. Her blog has been an immense source of happiness for us both. It gives purpose to our travels beyond just my Moz-related activities and we find a lot of unexpected wonder and creativity from them.
2013's travels started out with one of the furthest trips possible. Cape Town, South Africa is only a few thousand miles from Seattle's antipode.
Cape Town was the final winner of our 2012 Mozcation contest, and a lot of Mozzers got to join (pictured below). I also spoke at a startup event (above) hosted in a steampunk-themed coffee shop (definitely one of the most remarkable venues I've ever given a presentation in, despite the washed-out screen).
Visiting South Africa (and Africa, the continent) for the first time was incredible, and being joined by so many Mozzers was an amazing bonding experience. But, it was also the start of the dichotomy 2013 presented. Mozcation was something we thought we'd do every year, but as 2013's budget got tighter and tighter due to the constantly slipping dates of the Moz Analytics software launch, we pushed back the contest until, finally, we had to admit that 2013 (and very possibly, 2014) would have to be a hiatus from Mozcations. They're expensive events – in the tens of thousands to put on and send Mozzers (especially to a locale as far away as Cape Town), and while I love investing in serendipity, the cost is prohibitive.
But while in Cape Town, I still had all the dreams of 2013 being another incredible year of nailing deadlines and doubling growth and not sweating too much over 100K in marketing expenses with hard-to-measure returns. I had no idea that the year ahead would be so difficult, and so, as I look back at the pictures from South Africa, I remember that mindset – the optimism of having 5 years of things going to plan. I miss that, and part of me wants it back. But another part appreciates the struggle. Without those hard years from 2001-2006, would 2007-2012 have felt as good? Maybe 2013 is just a piece of that same cycle. A guy can dream.
Of course, given that we were visiting from so far away and had traveled so far (25 hours of flying not including layovers), we took some time out to see the sights. Geraldine wrote magnificently about many of them, but one of the most moving (and, sadly poignant given Nelson Mandela's death last month) was a trip to Robben Island, the sight of Mandela's 19-year imprisonment from 1963-1982. Walking around his prison yard, seeing his cell, and taking a guided tour given by a former political prisoner who shared time with Mandela was eye-opening, but remarkable. I feel so lucky to have seen a part of his life – and to be able to have an extra level of connection to someone I admire so immensely.
Perhaps the Onion said it best: Mandela Becomes First Politician to Be Missed.
We also spent an amazing four days in Bushman's Kloof, which was called, perhaps, the best hotel in the world, and based on my travels so far, I'd agree with that sentiment. The long drive from Cape Town took us to a much hotter, drier region, filled with amazing animals, gorgeous scenery, some of the world's oldest rock and cave art, and incredibly luxurious amenities. It was without question, one of the most remarkable experiences of my life (and only made affordable by a special they were running combined with several of us pitching in rooms together).

Since Bushman's featured a wide range of species but no predators dangerous to humans, we could wander around with the animals! Joel (from Moz's help team) and I thought we might be able to get closer than this, but sneaking up on Springbok is far more challenging than it seems after a midday cocktail.
In her wisdom, Geraldine decided that if we had a chance to experience the most luxurious parts of South Africa, we should also see the tough parts. On our return to Cape Town, we took a tour of several townships outside the central region. In a small structure on the edge of the highway that served as a local pub, I shared some homemade beer (called something akin to "Umqombo," but with a click sound replacing the "q") with some residents of the township. These are some of the poorest parts of urban South Africa, and a place where rape and other violent crimes are epidemic. It was sobering, saddening, and made us feel all the guiltier and luckier for having the opportunity to see and travel the world without fear as we do.
It's hard to believe that just 40 days later, I'd be sitting for this interview in Dublin, Ireland during the DMX conference.
Or that, a few days after that, in London (for Linklove), I'd pick up a kid's guitar and start jamming out with these fascinating gentlemen.
Our friend and fellow Mozzer, Ruth Burr, was in London with her boyfriend (now fiancé) Justin, and we spent a day wandering, buying, eating, photographing, and enjoying a new part of the city I'd never seen before (around the Columbia Road flower market). But if that temporal and geographic travel is hard to believe, the next one's even more incredible.
The photo below was taken on the sands of Hayman Island, in Australia's Whitsundays (near the Great Barrier Reef), at low tide around sunset on March 30th. The photo above at the flower market in London was taken March 13th. When I first looked at the dates, I couldn't believe them myself, and had to consult my Google calendar to be sure there wasn't some weird timestamp mixup.
I was speaking at SMX Sydney the following week, a conference I'd visited several years prior, but hadn't returned to in too long (to be fair, it's a REALLY long plane flight). So, Geraldine and I decided that we should take advantage of Moz's "paid, paid vacation" and visit the Great Barrier Reef for 4 days before the show.
On our third day there, we took a seaplane out to the reef itself, landed on the water, and dove into a cove of water surrounded by coral, and the densest concentration of life I can recall ever seeing. In the photo below, our eyes are distorted by the masks, but they probably were about that size when I first looked around in the water. I've been wanting to see the Great Barrier Reef since I did a report (handwritten around photos cut out from National Geographic magazine) on its inhabitants in early grade school. Witnessing it in person was an almost-religious experience. I told Geraldine after that it was the best day I could remember since our wedding.
SMX Sydney itself was a great conference, as always. It's a little smaller than some of the major US shows, but draws a very high quality of attendees and speakers. I gave a couple of presentations, did a few interviews, and talked to a lot of Moz customers about their work. Australia's always been strongly represented in the SEO world and in Moz's audience base, so visiting is a treat and a great opportunity with folks with whom I'd otherwise have very little chance to interact (at least in person).
We also got to see an old friend, Ciarán Norris', now with Mindshare Australia. We'd been at his wedding the previous September in Ireland (where I had my first shot at driving stick-shift AND driving on the left side of the road), and seeing him again so soon was delightful. He toured us around the Sydney Harbor market and we took the photo below in the gardens near the Opera House.
Thankfully, after Australia, travel calmed down a bit. I had several short US trips to speak at events, but Geraldine didn't join me again until we made our way to Miami for a few days in May. I spoke at Interactivity Digital in South Beach and we saw some of Geraldine's cousins who live in nearby Ft. Lauderdale.
The photo above, taken on the beach in front of our hotel, makes me look a little downtrodden, which I was. It was during the conference that I had a series of emails and calls with the Moz team and board, making some tough (and ultimately unwise) decisions about what to do after that latest delay to Moz Analytics. For almost a year prior, we'd thought that launch was only 30-60 days away. After some changes to the team in late April and some deep dives from Anthony (our CTO), we understood that there was no chance of a launch until late September or early October. The budget implications were nasty. The team morale ones were equally bad. I remember laying awake in the hotel room for hours, trying not to wake Geraldine. It's the first time I can recall starting to call the cycle of doubts and fear in my head, The Loop.
The Miami trip was a short one, and although the timing was rough given the challenges we were facing, I needed to head to France in early June. I had been asked to keynote SMX Paris two years prior, but, embarrassingly missed my flight (though Geraldine thinks it was mostly Air France's fault, which is fair – a story for another time). When they asked again, I was honored, and wanted to make absolutely sure I wouldn't miss it.
While I was at the conference, Geraldine visited lots of museums and sights. And when I had the weekend to spend with her, we went to bakeries (and to lots of other great places, too). We saw the Musee D'orsay, and the Eiffel Tower, and ate in wonderful restaurants, and spent loads of time in and around the Marais. It was our first time in Paris. It was wonderful.
After SMX Paris, we spent almost all of June, July, and August in Seattle (with only a couple short trips).
Actually, despite spending almost 100 days on the road this year, I spent more days in the office this year than in the past several (2011 and 2012 were both well over 100 days on the road). I took the photo above by running into a meeting I wasn't supposed to be in (on the topic of "Moz Local," something we're launching in 2014). In the foreground on the left is Dudley Carr, who now runs several of the engineering teams, including Moz Analytics. Dudley took over the project in late April, and was the bearer of bad news about the date pushing out to the Fall. To his credit, we launched that project right when he said we would, and his estimates and cadence have continued to be solid. I've grown to love Dudley's deep, booming laugh, his creative ideas about how to work around missing data (like Google's not provided), and the way he creates excellence around him.
The photo above also shows a meeting room in a second Moz office, just across the street from our old one. We grew the team considerably this year, which brought so many great new people into my professional life, but also created a lot of unexpected challenges of scale. I spent a lot of time this year reminiscing about Moz's early days. In my head, I know that I'm often over-romanticizing the past. Those first few years, with our offices that barely held 7 people in Seattle's U-District were incredibly tough. But they featured simpler kinds of problems. We'd huddle in our office and find a way to get more customers and solve their problems. We'd all walk to lunch together, most often to The Continental, one of my favorite casual Seattle restaurants. I'd get the beef souvlaki and a cup of avgolemono.
But suddenly, sadly, this year, The Continental closed.
Geraldine found out randomly when she walked by after an event in the U-District. She saw the sign on the door, and came home and we both almost cried. For all 13 years of our relationship, from the first month we dated until 2013, we'd gone at least once a season. We became friends with the proprietor (Demetre Lagos pictured above) and his family. When one of us was sick, the other would buy soup there and bring it home. They catered Moz events and a party we hosted. The Continental was one of the most consistently wonderful things in our Seattle lives. On closing night, we stopped by to say goodbye. When the Seattle Times wrote about the Continental's closing, we were pictured in the photo gallery.
Being in Seattle didn't just mean getting to say farewell to our favorite restaurant. Seattle also fills up every summer with friends from around the world, coming to Mozcon. For the Fourth of July, we hosted some of those folks, including Mike King (pictured below with Sarah's son, blowing bubbles).
Mozcon's a wonderful event, and this year was by far the largest and best yet (1,200+ attendees and remarkable feedback scores). But it was a hard event for me. It felt somehow dishonest to have so many people saying so many wonderful things so publicly about Moz, when I felt so disappointed in our progress and our unfulfilled potential.
Thankfully, I'm always surrounded by voices of reason, reminding me that this shit is supposed to hard, and that all is not lost. One of those, Brad Feld (who's an investor in Moz), and his wife, Amy, had pushed us to make some time to come to Boulder, CO and visit them, and we took a long weekend after Mozcon to do just that.
I secretly think Brad & Amy mostly like Geraldine. She's the funny one, the clever one, the one who makes every meal and conversation entertaining. I can fill in a few holes in a story, but being around her, I get it. Who wouldn't want to spend every minute they're awake is such great company? If it wasn't for Brad & Amy enjoying Geraldine's blog, Brad and I wouldn't have met, and chances are good he wouldn't have invested in Moz. Side note: thanks again honey!
The photo above was taken outside a cheese shop where we had lunch. Geraldine, Brad, and I decided we needed to dork up the weekend a bit more and Amy agreed to document. I think we pulled it off nicely.
In mid-August, after I spoke at Vancouver's GROW conference, we took a similar weekend trip to Bowen Island, where our friend Bob Rains now lives with his family. Bob was once a notorious black hat SEO (nothing illegal or massively immoral, just lots of stuff Google wouldn't particularly appreciate). But, unlike many of the folks from that side of the SEO world, Bob's never been anything but respectful, kind, and generous toward me. We may have our different tactical approaches (mostly in the past now), but we see the world similarly. And we both enjoy drinking tall boys out in nature 🙂
The Bowen Island weekend was a pretty crazy one. Bob's the kind of host who can make even a quiet, remote island feel like a 2 day party. At one point, we stumbled onto Michael Hogan (of Battlestar Galactica fame) signing autographs in the only grocery store on Bowen. Surreal.
In September, Geraldine and I did what we always do – made our way to Ashland, OR to celebrate our anniversary. We got married in Ashland in 2008, and look forward to going back every year. We see plays at the Shakespeare Festival and go out to fancy restaurants and try to find new things to see in and around the tiny town. And, of course, we spend plenty of sun-soaked afternoons in Lithia Park, where the photo above was taken (just after I'd run through the sprinklers to cool down).
From Ashland we made our way to New York, where I spoke at Conductor's C3 event. My grandparents live across in rural New Jersey, and came into the city the weekend after the show to see us. We took the photo below with my grandfather, Seymour (or "Si" for short) in the Museum of Natural History, where an exhibit on frogs was being shown (I'm a huge fan of both my grandparents and of frogs).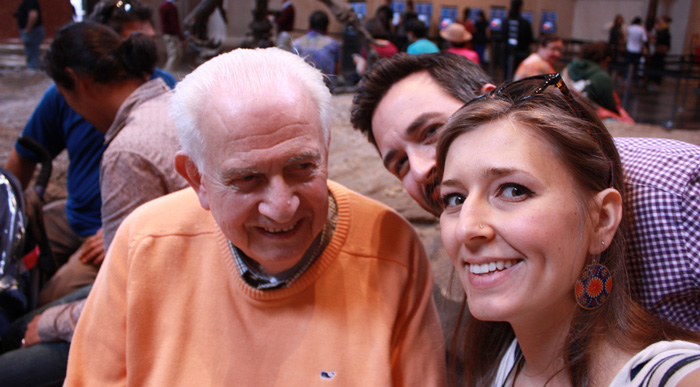 My grandmother has often remarked that while she doesn't like having her picture taken, she loves the joy that looking through photographs can bring. I don't mind taking pictures, but I share in the latter portion of that sentiment wholeheartedly. My grandparents are in their late 80's, and Geraldine reminds me every time we see them how lucky I am to have them in my life, and in such great health.
In October, of course, it was time to swap jobs and take over Wil Reynolds' gig as CEO of SEER Interactive. One of my first tasks was to fill in for him as a volunteer after hours at the Ronald McDonald House in Philadelphia. I'm not a great cook by any measure, but with some instructions and help from the SEER team (and Geraldine), we made a pretty decent meal that the families staying at the house seemed to appreciate.
CEO Swap was an amazing learning experience, and probably one of the most unique things I've done in my professional life. I felt really lucky to have the opportunity, the friendship, and the means to make it work. Already, I've forgotten most of the stress of the week, but the lessons of how SEER has built a team, how they acquire and retain great clients, and how they perform their work sticks with me.
Autumn was unusually quiet for travel. Normally I have a great number of conferences to attend in far-flung corners, but with the launch of Moz Analytics finally in place and the pressure of missing budget so heavily, I opted out of a lot of very kind invitations. Geraldine used the opportunity to make us Halloween costumes (yes, make as in, by hand) from my favorite television show, Adventure Time. I think the skull-topped axe bass guitar came out particularly well. If only I hadn't Spartacus'd up the photo by wearing my watch – doh!
For Thanksgiving, we did get away to San Diego, where Geraldine has family. We walked down Newport Street to the gigantic pier in Ocean Beach and took this photo at Sunset.
Geraldine's family asked how I was, and I looked at her, and she said "Rand's been having a rough year." And they seemed OK with that. We ate turkey and watched Football and played with the kids, including Geraldine's brother's son, our nephew, who's finally walking around and seems to have a grand time doing so.
After Thanksgiving, I filled out a weekly 15Five report mentioning a conversation we'd had at the board and executive level about changing my role at Moz. That kickstarted discussion of moving up the timing, and a few weeks ago, we formally announced, first internally, then publicly, that I'd be stepping down from the CEO position sometime soon (current ETA is the middle of January).
I need to remember more often how lucky I am to have Sarah as a partner at Moz. There are a lot of CEO who have doubts about their abilities, and plenty who hope against hope that they can find a way to elegantly extricate themselves from the role without causing harm to their company or their team. But there are very, very few who have what I have – someone who can credibly assume the job and, more, credibly do a better job than their predecessor.
When we made the announcement, I must admit that I was a little surprised at how overwhelmingly positive the responses that came in were. I even wondered if I'd been a terrible CEO, and maybe everyone was elated that I'd finally realized how bad I'd been (obviously, that's not the case, but the sentiment really was that good).
I believe Sarah's going to make an amazing CEO, and 2014 is going to be a much better, healthier, happier year for me.
On New Year's Eve, here in the desert, Geraldine and I joined Sarah, Eric, and their son for a fancy dinner… at 5:30pm, because little dudes need to get to sleep early. We stayed up and watched a movie, and then the ball dropping on television, and we drank too much, and that was OK. I'm feeling scared about 2014, but hopeful, too.
Happy New Year.